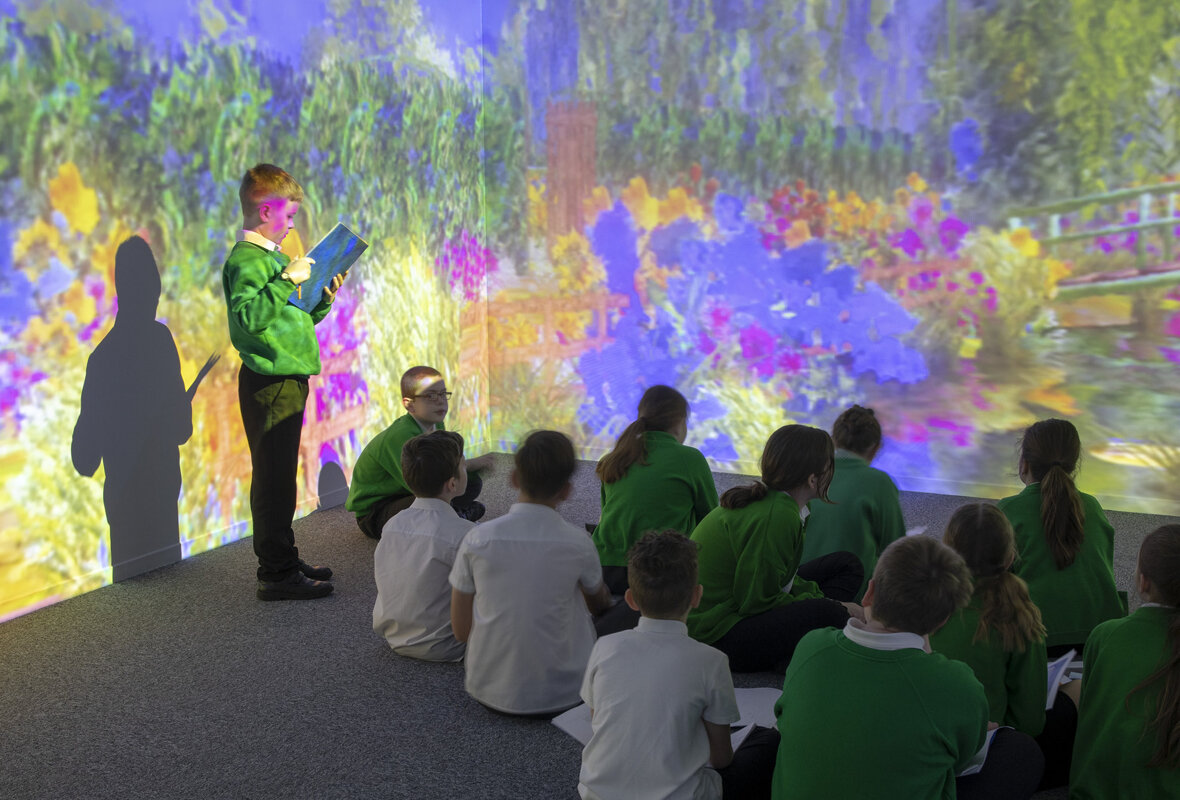 It was a day to remember for the children, teachers and invited guests at Humberston Cloverfields Primary Academy in Grimsby recently, as an interactive immersive classroom, which has taken two years to develop, was formally unveiled.
The learning space opening event demonstrated how interactive classrooms, using virtual reality (VR) have the potential to become the learning environment of the future by allowing children to journey into the unknown and expand their knowledge and experience within a totally immersive setting.
Instead of previous interactive classrooms where images are projected onto a wall, this latest technology takes the images made for a VR headset and projects them across a whole room, allowing children to have a shared, enveloping and audible experience rather than the solitary experience of using a headset.
The installation has been a partnership development between the Enquire Learning Trust (ELT) and Backstage Academy, the Wakefield-based university arm of Production Park - a unique support organisation for the live events industry, uniting technology, creative spaces and education.
After a chance meeting and informal conversation, ELT's director of business and operations, Paul Kennedy and Adrian Brooks, Production Park's chairman, decided to explore the possibilities of the type of technology Production Park is using every day in its live events business, to enhance teaching and learning in the classroom.
To date, three classrooms have been created, one within each of ELT's three teaching hubs, with plans to create two per hub by the end of the year, allowing children at all of ELT's 29 primary academies to benefit from this ground-breaking educational experience.
Carole Spruce, principal at Humberston Cloverfields, said: "Some of the reactions have been profound. Close encounters with predators and the journey with dinosaurs will leave lasting memories. Another child walked into a Monet painting and declared 'I'm in heaven'.
"It is incredible to see the difference it can make. We have noticed that the standard of discussion and vocabulary is also much improved. For example, in one lesson, children imagined Captain Scott writing his last letter home from the Antarctic, knowing he was not going to return, using as a backdrop some footage obtained in the Antarctic. We had turned down the temperature in the room which was very much lower than in the main school and there was a mass 'drawing in of breath' as the children entered. This type of experience really fires their imagination and creativity."
Ronnie Woods, ELT's director of teaching and learning, added: "It has been a fantastic experience, working with the team at Backstage Academy to create this interactive immersive classroom.
"We had ideas about how it would enhance learning before we started but we are only now just beginning to discover that it can take children, literally and metaphorically, to places beyond their lived experience.
"Much of the work is currently stretching the possibilities and discovering the potential uses the rooms could have. We are always asking the question 'what value does it add?' and 'what learning is only possible because we have this resource?'
"We are still very much in the development period in terms of integrating the technology across the curriculum but ultimately, we aim to install an interactive immersive classroom in all of our schools.
"Next on the agenda is to look at the implications for pupils with special educational needs using video to calm those with autism. It is really exciting work."
Production Park's Adrian Brooks added: "From the beginning, we aspired to design a control system which could be operated by anyone - so that irrespective of a teacher's IT skills, they would be able to master it quickly - and we are pleased with their response.
"The first three classrooms are all in schools where there was an empty room, but for the next three, we are developing a solution where a room or part of a room, such as the school hall, could become the immersive space and then fold away quickly and easily. Now we are applying our thoughts to how we can create a mobile version of this system which any school could install."
About Enquire Learning Trust
• ELT operates 29 primary academies, making it one of the largest primary only academy trusts in England.
• It operates from three hubs in the Northern, Eastern and Western.
• ELT was incorporated in 2012 by Darren Holmes, chief executive and Ronnie Woods, director of learning and innovation; the first academy conversion effective from June 2013.
• ELT believes that every child can be a successful learner, no matter their starting point and the trust has earned a national reputation for its learning outcomes. In 2018 ELT announced that 92 per cent of its pupils are being taught in schools that have been judged by Ofsted to be good or better.
About Production Park
● Interactive Immersive Classroom is the first spin-out company from Backstage Academy - given home, support and mentoring in the Production Park Research incubator spaces. The young team of recent graduates have designed the hardware, content management, user experience from the ground up as a fresh approach to education.
● With the express intent of being 'Where Live Industry Lives', Production Park is now home to more than 20 live events businesses, two studios and a dynamic and creative cohort of over 200 students. It is an international destination of choice for technically challenging live productions.
● In recent months its facilities have welcomed the likes of Depeche Mode, The XX, Coldplay, System of a Down and Little Mix who made use of the arena-sized on-site rehearsal facilities.
● Keen to support the growing live events industry, Backstage Academy was founded in 2009 to provide the next generation of live industry professionals. It delivers degree level education to over 200 students in Live Events Production, Visual Design & Production and Stage Management

For more information contact Philippa Clothier or Mandy Peel at Clothier Lacey on 0191 273 9897